WELCOME
We increasingly use digital media and computational devices in our daily activities, and leave behind a sizable amount of digital traces while doing so. The proliferation of mobile devices, and the incorporation of various sensing technologies in these devices, will further add to this growing trail of data. The possibility to mine and analyze these data, and the scale at which this can be done on contemporary computer systems, affords a novel, data-driven approach in the investigation of various aspects of human behavior.
SocioPatterns is an interdisciplinary research collaboration that adopts this data-driven methodology with the aim of uncovering fundamental patterns in social dynamics and coordinated human activity.
To achieve its scientific goals, the SocioPatterns collaboration also contributes to the development of new technologies for collecting relevant data. In particular, the collaboration supports the development of the SocioPatterns sensing platform, which uses wireless wearable sensors to gather longitudinal data on human mobility and  face-to-face proximity in real-world environments.  The SocioPatterns team also works on developing tools and techniques to represent, analyze and visualize the collected data.
FEATURED: INFECTIOUS SOCIOPATTERNS POSTER
We have created a visualization of sixty-nine days of face-to-face contact activity among more that 30,000 persons based on data collected during the INFECTIOUS: STAY AWAY exhibition in the Science Gallery in Dublin, Ireland. This visualization is published in our gallery as a poster that can be freely downloaded.
COLLABORATION MEMBERS
SocioPatterns is a collaboration between researchers and developers from the following institutions and companies:

NEWS
We have launched a pilot study in collaboration with Laura Ozella and her team at the University of Torino, Italy.  We aim at instrumenting colonies of feral cats in the city of Torino with new proximity sensors programmed by the ISI Data Science Lab to operate in a fully distributed fashion. We will measure the social structure of feral cat colonies in urban settings, and put these data in relation to clinical and microbiological data on cats' health and transmissible conditions. This pilot study is part of a broader study on animal health and environmental risk factors led by Laura Ozella.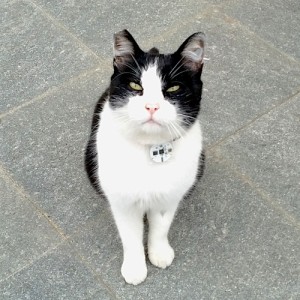 We are thrilled to announce that the long time hardware partners of the SocioPatterns collaboration, Brita Meriac and Milosch Meriac of Bitmanufaktur and OpenBeacon, have open sourced the design of their latest BLE beacons. The new beacons already support the recently announced Physical Web protocol by Google. We look forward to a surging wave of open sociometrics.
We have presented a wealth of new data, analysis and results at the annual European Conference on Complex Systems ECCS'14 that was held in Lucca from Sept. 22 to 26, 2014. Contributed talks were given by A. Barrat, M. Génois, C. Vestergaard and L. Gauvin. R. Mastrandrea also presented preliminary results at the TNETS'14 satellite.
Moreover, A. Barrat and C. Cattuto gave invited talks at the Computational Social Science satellite workshop. Finally, we were glad to see various talks by scientists who used SocioPatterns data sets.
SUPPORTED BY